Hundreds of Ulster-Scots performers came together at Stormont earlier to create this memorable Platinum Jubilee tribute to Her Majesty the Queen.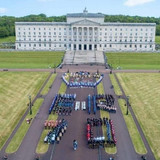 More than 350 individuals, drawn from Highland and Scottish Country dancers and musicians from 24 bands including pipe, flute, accordion and silver took part in the display, which was organised by the Ulster-Scots Agency.
Participants from across Northern Ireland were joined by a contingent from East Donegal and the group included local members from the Royal Scottish Country Dance Society and the Royal Scottish Pipe Band Association, which have long standing connections to the Sovereign.
Thanks to all who made this possible.
Article taken from the Ulster-Scots Agency