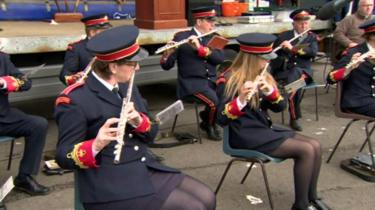 The annual parades by the Royal Black Institution on the last Saturday in August have not taken place due to the coronavirus pandemic.
Usually, parades would take place involving about 15,000 marchers.
Like the Orange Order, the Royal Black cancelled its summer parades including its traditional "last Saturday" events.
Some bands organised marches involving no more than 15 people, adhering to outdoor protocols announced recently by the Department of Health.
Preceptories also marked the day with acts of remembrance at a cenotaph or war memorial.
Sovereign Grand Master, the Rev William Anderson, urged all those participating to follow the guidelines in place, saying "we can't be complacent".
"This pandemic, this virus is spread by people coming into contact with one another and so, therefore, we must ensure that we do the social distancing, that we do wash our hands regularly and we do wear face masks as and when necessary," he said.
He added that coronavirus "has not gone away in Northern Ireland".
Noel Lusty from the Royal Black Institution said the demonstrations "bring us all together".
"This has been denied to us since the start of the year, when we've been on lockdown," said Mr Lusty.
"We haven't been able to hold parades, our religious services have been interrupted.
"Even sir knights [members] that have passed on, we haven't been able to console their families in the way which we would like to do."
Published on the 29th of August 2020
Article taken from the BBC News Northern Ireland