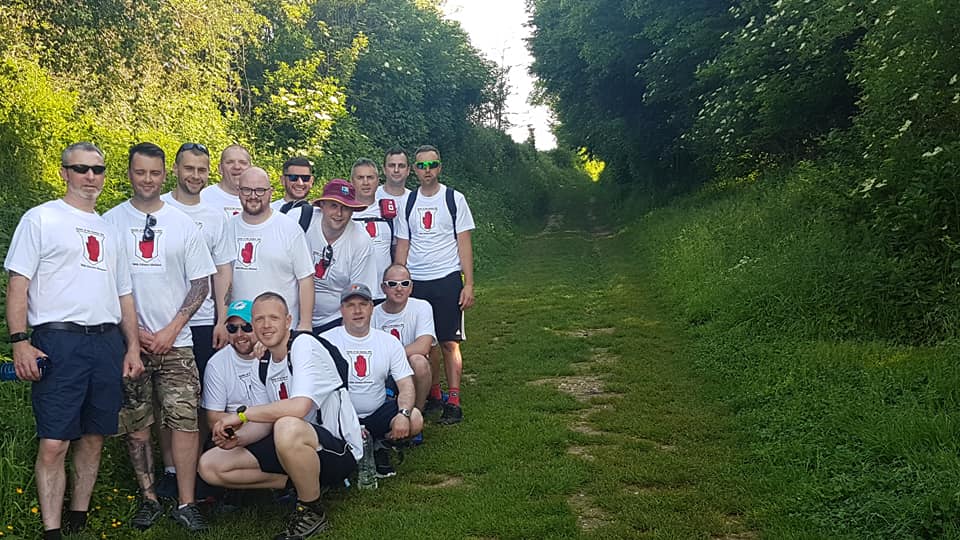 Orangemen who completed a mammoth 90-mile walk of remembrance on the Western Front have described the experience as "phenomenal".
Seventeen members of Banbridge LOL 20 and surrounding districts reached the symbolic end point of the Menin Gate in Belgium on Wednesday afternoon having travelled on foot, over the course of four consecutive days, from Thiepval Memorial in neighbouring France.
As well as remembering the fallen of the Great War, proceeds from the intrepid fundraising challenge will go towards both the children's cancer unit in the Royal Hospital and Cure4cam, aiding the local family of Cameron Truesdale (13) in their bid to raise money to travel to Mexico to receive treatment for a brain tumour. So far, the walkers have raised in excess of £16,000.
Speaking as he completed the final leg of the epic trail, lodge secretary Stuart Magill described their involvement as "fantastic". "It has been phenomenal," he said.
"If truth be told it was tougher than expected, but the morale among the group has been brilliant. The craic and banter kept us going, particularly when the muscles were starting to strain. If it wasn't for the camaraderie, we probably would have found the trek even more demanding.
"At the same time, it was a walk of remembrance and we visited a lot of cemeteries and memorials. When the time came to be respectful we were."
The walking route incorporated notable battle sites, including the Somme, Messines and Vimy Ridge. A number of the group have direct relations who paid the ultimate sacrifice on the front line and they were remembered on the journey. On Tuesday, Mr Magill himself, laid a wreath in memory of his great-great uncle, William Close, on the actual 103rd anniversary of his death at the Plogsteert Memorial.
The Orangeman described this moment as a personal highlight, along with an historic lodge meeting at the Ulster Tower ahead of the walk of remembrance.
Amid the poignancy, Mr Magill also stressed the "surreal" nature of the trip.
"Words cannot describe what it is like to be over here. You are walking along roads and you are seeing shells embedded in the ground from over a century ago. It is remarkable."
The group were fortunate in that the weather was extremely pleasant and humid during daylight hours, but thunder and lightning was prevalent during darkness when they were resting between excursions.
On Wednesday evening, before returning home to Northern Ireland, the Orangemen were due to participate in the daily Last Post ceremony at Menin Gate, Ypres.
As well as lasting memories from the walk, Stuart joked the many miles had taken their toll on the group and some recuperation would be required. He added: "All of us have numerous blisters – some of them are walking until their feet are numb so they don't feel the pain anymore!"
To make a donation, visit the JustGiving website, searching for walk of remembrance.
Published on the 30th May 2018
Article taken from the The Orange Order