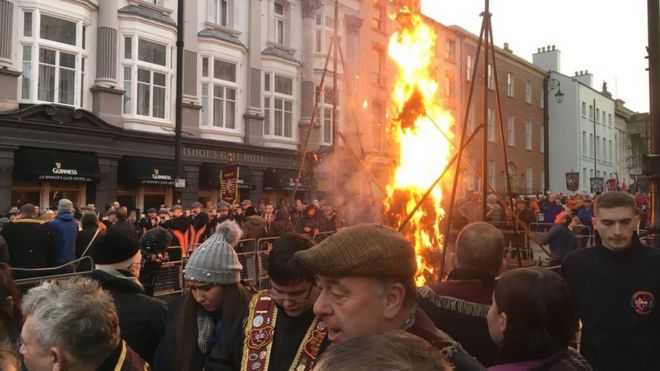 The Apprentice Boys' annual Lundy's Day parade has taken place in Londonderry.
The event commemorates the 17th century siege of Derry.
Twenty-six bands and about 2,000 Apprentice Boys participated in the main parade on Saturday afternoon. There was also a thanksgiving service in St Columb's Cathedral.
The day ended with a burning of an effigy of Lt Col Robert Lundy, known as Lundy the Traitor.
This year the Apprentice Boys installed a new governor, Graeme Stenhouse, who is originally from Edinburgh.
He said he wanted to build on the work of his predecessors and ensure that the "peaceful parading atmosphere" in the city continues.
"As we have seen over the last few years, there is a greater atmosphere about the town especially in August and December," he said.
Published on the 2nd if December 2017
Article taken from the BBC News Northern Ireland