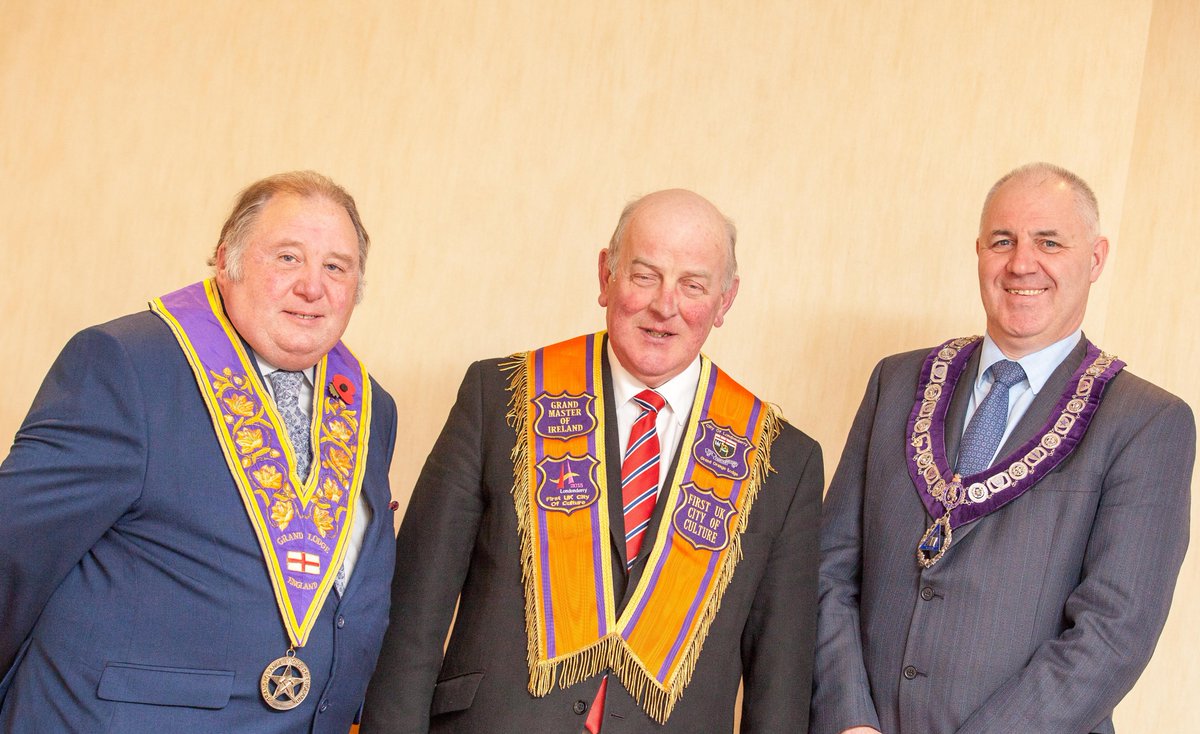 Senior Orangemen from across the United Kingdom came together this week to discuss matters of mutual interest.
The Grand Masters of the respective Grand Lodges of Ireland, Scotland and England were among those in attendance at the interjurisdictional meeting held in Antrim on Tuesday.
The gathering, which also brought together other Grand Lodge officers, is convened on a biennial basis and is utilised as a forum for brethren to converse over issues which are relevant to the wider Orange fraternity.
Among the many topics discussed were this year's Reformation anniversary, which the Institution, along with the other Loyal Orders, would publicly mark as part of its ongoing Christian witness. A major rally is scheduled to take place in Portadown in May.
Attendees deliberated upon how the various jurisdictions were best served in promoting unionism and ensuring the long-term preservation of the Union. The ramifications of the recent election to the Northern Ireland Assembly and moves for a second referendum on Scottish independence were also considered.
Speaking afterwards, Grand Master of the Grand Orange Lodge of Ireland, Edward Stevenson, described the meeting as a "useful networking exercise".
He said: "The interjurisdictional meetings always provide an opportunity for the different strands of Orangeism from across the British Isles to come together and confer on matters of shared and common interest.
"This week's event was no different and indeed was a hugely beneficial exercise for all participants. We look forward to continuing and strengthening our longstanding relationship between the respective jurisdictions in the days and months ahead."
Grand Master of the Grand Orange Lodge of Scotland, Jim McHarg, was attending his first such meeting in his role, having assumed office last year.
He said: "Our get together was a 'getting to know you' session for those members attending their first interjurisdictional meeting. It was mutually advantageous in that regard for the new team. It was also extremely valuable in terms of working through the various intertwined issues we face in each of our particular areas of the United Kingdom."
Mr McHarg said he used the opportunity to update attendees on arrangements for the upcoming meeting of the Imperial Orange Council, due to be hosted in Edinburgh next summer.
Ron Bather, Grand Master of the Grand Orange Lodge of England, described the Antrim meeting as "very productive".
He said: "We worked through a detailed agenda and had positive discussions on every subject. It was an excellent meeting. "The three Grand Lodges are certainly on the same page and our close connections will ensure we move forward in a progressive manner."
Published on the 23rd of March 2017
Article taken from the Orange Order